Kilroy, John Beresford "Jim" - 2014 Hall of Fame Lifetime Achievement Award
John Beresford
"Jim" Kilroy
"My best memories of the Kialoa years are of the crew, what we accomplished together.
They've all stayed in touch, forging friendships around the world."
May 1, 1922 — September 29, 2016
Birthplace: Ruby, Alaska
LIFETIME ACHIEVEMENT AWARD
Maxi Man
In 1979, I sailed aboard Kialoa III on the storm-ravaged Fastnet Race. Here's an excerpt from the book that resulted ( Fastnet, One Man's Voyage ):
"The Fantasy, for many who are struck as children with the terminal disease called sailing, often involves a dream boat of majestic proportions that plies the oceans of the world making a hundred landfalls, each one more enchanting than the last, with its crew sampling the world's cultures, foods, wines and women; fraternizing with the rich and powerful, and in the best possible way. Jim Kilroy has made it a reality, and a palatable one by doing it right."
Kilroy did it right for more than 40 years, starting in the 1960s with a series of 5 maxi boats all named Kialoa — "long, beautiful canoe" in Hawaiian. His rules: pay your own plane fare to the boat; no women allowed to sleep on board; keep the toilet lids down so the towels won't fall in; make up your bunk; keep your gear and yourself clean; speak your piece, then follow orders.
This skipper led by example. Jim is a savvy sailor, a good helmsman who almost always started the boat. He was involved with all facets of the Kialoas , from design and building to using the day's latest technology (an HP-67 card-programmable calculator) to solve tactical problems and assess performance. Kilroy brought the focused concentration, hyper organization, and various systems that had proved successful in his business to his race boat: "controlled averages" (soliciting maximum input from employees), the value of stress, physical fitness plus, and faith in the subconscious mind. The result was a winning boat (a dozen passage records set, and hundreds of victories from Sydney Hobart to Cowes, the SORC, Sardinia, and Antigua) with a hard-partying, cosmopolitan crew of self-reliant, fast-talking sailors that was loyal as an outlaw gang.
Kilroy was concerned about their future. Born in Alaska into the Depression with a vagrant father, Kilroy knew about hard times. Smart and ambitious, from the outset he had a keen eye for what worked, and lived by it. He predicted the post war need for manufacturing and office space in California. An ace insurance salesman (million dollar club), Kilroy moved into industrial real estate in a comprehensive way and found his true niche. Kilroy Realty (Kilroy Industries until 1996) Corporation's impressive command center is close by the Los Angeles International Airport, where Kilroy's initial properties took shape.
If Jim discovered a Kialoa crewman didn't have a real job, he'd be suspended. If the guy couldn't find a job, Jim often offered him one. Several crewman forged lucrative careers at K.I. Today, at 92, Jim is most proud of his crews' success rate in business.
The Kialoas were Jim Kilroy's fantasy, his Big Dream, one he made a reality in his own inimitable way for himself, and for a collective of 100 grateful sailors.
As the esteemed British sailor Harold Cudmore commented, "In every generation there is an individual who changes the status quo for the better. Jim was that man at that time."
- Roger Vaughan
---
ABOUT THE LIFETIME ACHIEVEMENT AWARD:
The National Sailing Hall of Fame Board of Directors has instituted a Lifetime Achievement Award category to be awarded annually to someone who, over their lifetime, has made a contribution to and/or has had success in sailing, while also achieving notable accomplishments and stature in a non-sailing career.
---
Video & Audio:
"Jim Kilroy Induction into the 2014 National Sailing Hall of Fame and Acceptance"
"Maximum Effort" - Clip from trailer from "Maximum Effort", featuring soundbite of Jim Kilroy talking about Kialoa US-1 .
SORC 1983 - Hour-long video on the 1983 SORC, in which Jim Kilroy is featured.
1982 Clipper Cup
1977 Sydney Hobart Race - Trailer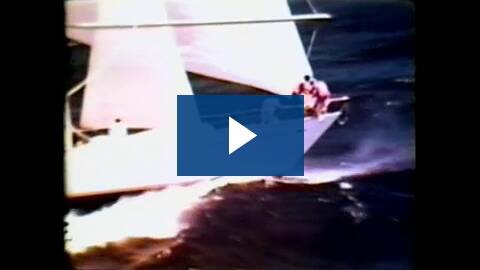 1975 Sydney Hobart Race - Trailer
---
Links of Interest:
Story on Jim Kilroy's legacy in Sailing Scuttlebutt
Jim Kilroy obituary in Los Angeles Times
Jim Kilroy obituary by Chris Museler in New York Times
"CRE Professionals Reflect on John Kilroy Sr.'s Impact on CRE" in Bisnow Real Estate News"
Online companion to Jim Kilroy's book - KIALOA US-1: Dare to Win
Page with basic info on KIALOA II
Photo gallery of KIALOA III on RB Sailing
Sparkman & Stephens page on KIALOA III
"Jim Kilroy's KIALOA Fits His Style" - article in June 21, 1988 article in LA Times
---